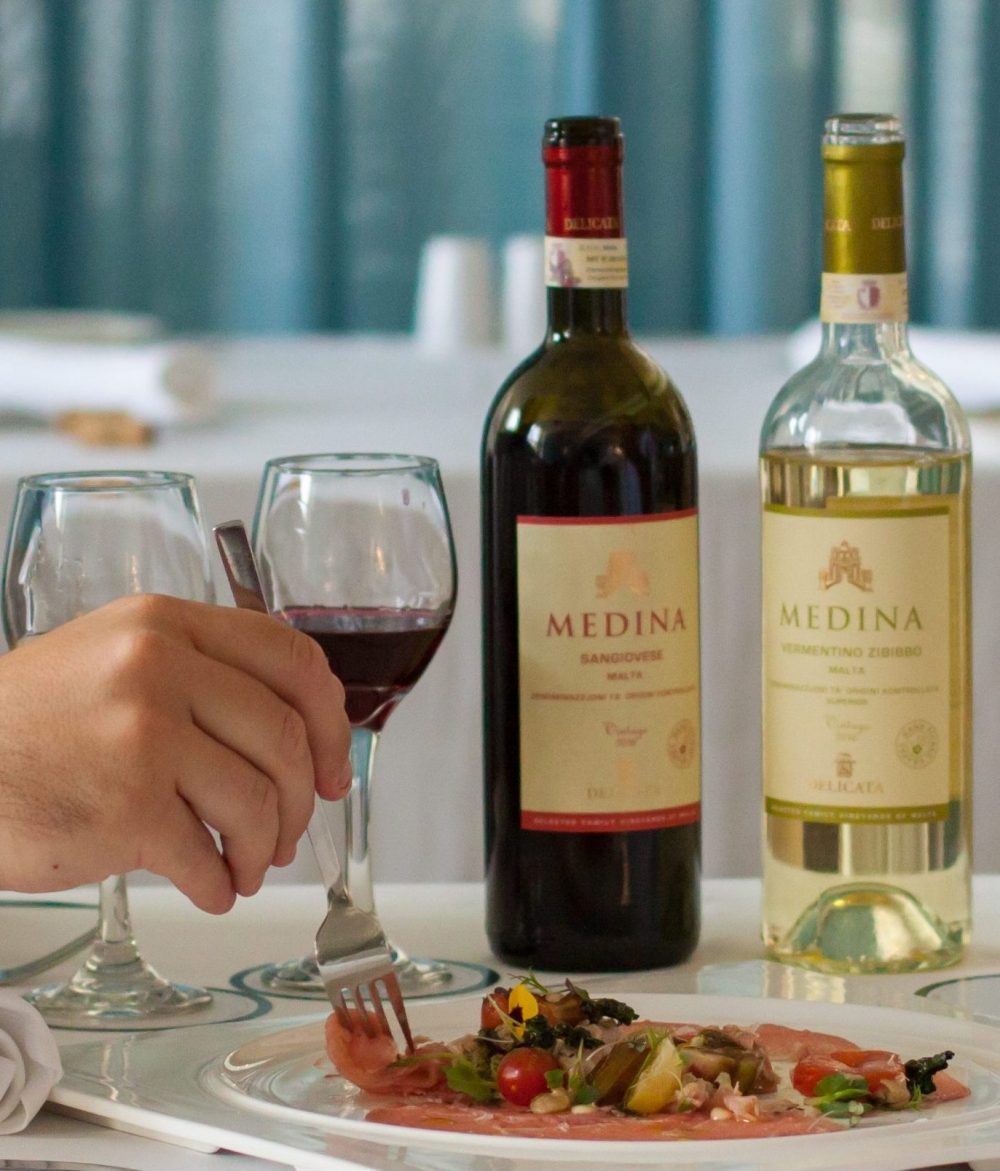 If you were to take a culinary snapshot of Malta, apart from wine, tuna and capers would be some of the most likely local ingredients centred in the crosshairs of your viewfinder.
Prepared together with fresh veal, they would make for a vanguard Maltese surf-and-turf dish local fishermen and farmers, chefs and sommeliers, and all of us islanders can share. Yet this fare presents itself traditionally as a landlocked Piedmontese speciality served chilled and covered in a creamy, mayonnaise-like sauce by the Italian name of Vitello tonnato.
Two-star Michelin chef Michel Roux Jr provides a recipe on the website of wine magazine Decanter complete with three wine pairings by Master Sommelier Xavier Rouses, who's worked side by side with Gerard Basset and won the Ruinart UK Sommelier of the Year competition.
It's easy to recreate and elevate the whole experience with the help of a talented professional toque using fresh Maltese ingredients and a cache of authentic Maltese wines to choose from.
Together with Adrian Buttigieg, executive chef at Le Méridien St Julian's Hotel & Spa, I happily tucked in and looked for a matching Malta-grown wine style from the Delicata winery's portfolio of award-winning labels to replace Rousset's labels of Barbera d'Alba (an herbaceous Italian red), Châteauneuf-du-Pape Blanc (fleshy and heavy dry white) and Blaufränkisch (a quality red from Austria).
We found this to be a slightly tricky recipe to pair with wine. The anchovies, which make friends and enemies quickly, work as nature's MSG. Although Buttigieg was wise enough to use them sparsely, undercover in the vinegary dressing, these little fish always intensify the savoury flavours. As a result, light-bodied, delicate whites could get overwhelmed and overtly dry wines of any colour tend to taste somewhat bitter.
Chef Buttigieg favoured the easy-drinking and suave red 2016 Medina Sangiovese DOK Malta. Legitimately light-bodied, with a silky, smooth texture and bright cherry-scented fruit flavours, this is a fine partner especially thanks to its softness. I particularly appreciated its lack of fierce tannins like in the case of Rousset's proposed Barbera d'Alba and Blaufränkisch.
We also liked the fresh and fruity dry white 2016 Medina Vermentino-Zibibbo, DOK Malta Superior, a unique and fleshier blend in the same Medina selection of unoaked Malta-grown wines.
It definitely tastes richer and more seductive than many other Mediterranean renditions of the Vermentino variety. Its predominant tart citrus notes are mouthwatering and the touch of perceived sweetness in the finish coming from the grapey character of the Zibibbo variety counterbalances the delicious but impregnating flavours of the Vitello tonnato perfectly.
Personally, I think this Piedmontese recipe is more white wine fare than red which surely shouldn't be lush and overtly fruity.
Veal and tuna are really two strangers in a plate but chef Buttigieg marries them wonderfully like no ħuttab (matchmaker) could. The wine need not be as opposing in nature either. While matchmaking of this sort isn't easy, it's great fun and doesn't have to break the bank. Any of the two recommended Medina bottles are affordable and conveniently available from your local wine store.
If you wish to revisit chef Buttigieg's creative and attractively plated take on this dish yourself, visit http://bit.do/greatdish for the recipe or pick it off the menu at the elegantly revamped Taro restaurant at Le Méridien, St Julian's.
This article by Georges Meekers appeared first in the Times of Malta, 2 June 2017.