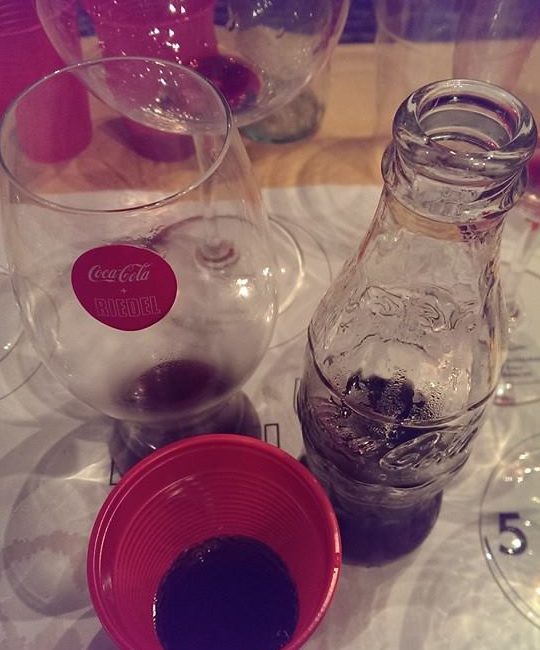 I'm not sure why I actually went along at last week's Riedel glass seminar with the speaker's suggestion to taste Coca-Cola out of the manufacturer's new designer glass. Isn't coke a democratic drink you enjoy most drinking directly with your lips pursed around that iconic bottle after you lift that crown – just as the soft drink company used to make people believe in the good ol' days?
Perhaps the Austrian glassmaking family has become guilty of diversifying just a little too much  since I  first attended a Riedel wine glass seminar twelve years ago.
Back then Riedel made itself and their beautifully crafted crystal wine glasses famous to all through the philosophy that each grape varietal requires a specific and purposely designed glass to offer the full expression of a wine.
It was a time when most catering establishments in Malta were still doing a disservice to wine by serving it in anything but a decent wine glass. The many local Riedel product demonstrations that have followed since have had a practical impact on restaurant tables in a  similar fashion to what Tupperware parties do to empty kitchen cabinets. At least now that they're readily available, we can all dine out in style and drink wine from ample-sized glasses (although they might not all be Riedel).
For my professional use, I've kept on relying as much as possible on one and the same glass, which is machine-made similar in shape but larger than the ISO glass simply because it allows me to benchmark.  For me the key has always been consistency in the type of glass I'm using when assessing wine methodically.
This implies of course that I agree that, at least to a certain extent, the taste of a single wine can vary according to the glass it's poured in. However, as I realised at last week's Riedel presentation, the wine glass you think that shows off the wine at its best, isn't necessarily the glass Riedel wants you to think it is. As I ignored the sequence of glasses in which I was  told to pour the wine and instead evaluated it from any glass at random I became aware of the influence of suggestion, the placebo effect. Riedel and other high-end glasses can make wine taste better. Because they're pretty. Because they're delicate. Because they're expensive. And, because you're told that they make the wine taste better.
I'm of course not the first person to be sceptical. Riedel has had its share of criticism, especially since  2004 when Daniel Zwerdling wrote his blistering article called "Shattered Myths" published in Gourmet magazine. In the absence of scientific evidence to support the glass manufacturer's claims, I believe that the answer to the riddle why the glass is so important to the enjoyment of wine is likely to lie within the art of persuasion.
Riedel has diversified the ranges of glasses further since my introduction to the brand twelve years ago. There are now also regional glass lines on sale such as the Oregon Pinot Noir glass, created in 2006 at the request of some of the state's vintners. Which begs the question: "Where does the proliferation of glassware end?"
What if an upcoming, young winegrowing area – like, say, Malta  – approached George Riedel about making a few new glasses? Glasses for Girgentina and Gellewza, not one but a pair for each variety relative to whether the grapes come from the main Island Malta or Gozo instead. Would he accept the challenge or gracefully decline? Maltese wines aren't as abundantly available as Coca-Cola; the answer is in the numbers, I guess.