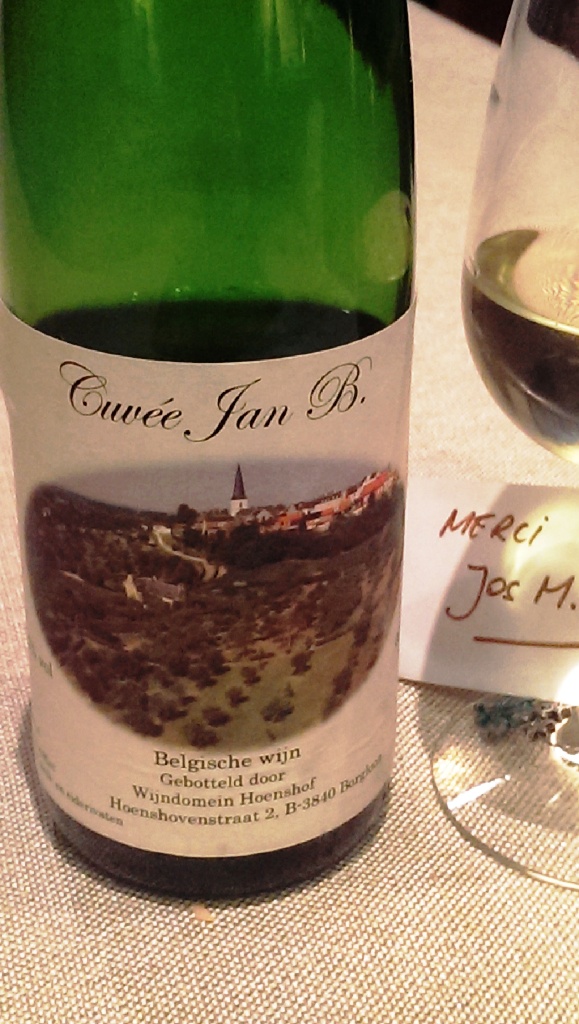 In my travels when I have found no answers, I discovered wonders and sometimes curiosities have come to me – like this gift bottle of Belgian wine.
Yes, I had high hopes for this Cuvee Jan B. that originates from my hometown Borgloon in Haspengouw, Belgium, wishing it would be ever as delightful as that lush Chardonnay from Clos d'Opleeuw that hails from the same fertile land. It wasn't.
Apart from maybe a dose of Auxerrois and Chardonnay, the 500 liters (barely two barriques full) of Cuvee Jan B. are mainly made from Müller-Thurgau. After Chardonnay this is the most popular grape variety cultivated by Belgian growers. In Borgloon, too, it can be spotted in several small vineyard blocks.
Like the arrival of the Doctor's crossing in 1884, last year the launch of the Cuvee Jan B. was also enthusiastically trumpeted in local media as "the ultimate blend" of the region.
This non-vintage assemblage honours and takes its name after 1960s local pioneering Belgian winemaker Bellefroid whose first name was Jean – or Jan in Dutch. The use of the "B" – rather than the surname in full – has been preferred so as to avoid giving the appearance that the wine would per se have carried the late icon's approval.
Maybe just as well. Having pulled the tight-fitting synthetic nomacorc, swirled and swished the wine, I can't say it did soak up enough fruit flavours when still on the vine to have a chance at rivaling either the modish whites produced from the same hybrid grown in Italy's South Tyrol, the Swiss pétillant versions or New-Zealand's examples from Hawke's Bay. In all fairness, few can.
However, having said that, I am the first to admit that one sip of Cuvee Jan B. is surely intellectually more challenging than the entire ocean of Liebfraumilch that washes over nascent wine drinkers.
This modest dry white "Belgian  Wine" ("Belgische Wijn" in Dutch), which until recently would have had to be labeled legally as "Table Wine", somehow tested the limit of my professional abilities, delimiting the boundaries of my existence in the same way I used to feel about my town as a teenager wanting to leave it behind whilst being drawn back to it in the same pulse.
The little nose that unfolds light aromas of delicate flowers akin to those  found in Pinot Grigio and Bianco varietals that don't excite the drinker, unless he's connected to the wine's heredity, struck me as fresh at first. Yet soon enough it threw me off with a dumb whiff of cabbage and asparagus. I found that the palate is getting tired whilst leaving a very slight but misplaced sweet aftertaste.
Which makes me question.
How much does the profile of this wine rely on the fruit ripeness at harvest and to what degree would juice chaptalisation have modulated the wine's taste and mouthfeel properties? To what degree has this wine (or some tiny volume of it) undergone deliberate or unintentional malolactic fermentation? Were some of the grapes bruised or could this cuvee possibly have been made from too many single small batches inviting in too much oxygen, and how stressed might the alcoholic fermentation have been?
I guess some bottles are best judged by the questions they evoke than the answers one hopes to find in the glass. When every answer leads to more questions, the only way to drink happily is to let go of some.
Just let it be!
Tasting Note (29.11.2013 G.M.)
Cuvee Jan B., NV, 11.5% Vol.
variety: probably a blend of Müller-Thurgau and possibly Auxerrois Blanc and/or sibling Chardonnay
style: dry, white wine

region: Belgische Wijn (Borgloon,  Haspengouw, Belgium)
producer: local collaboration of grower-producers
Georges' Score: D
A departure of the norm for me is this pale straw, green-tinged wine with a little nose that unfolds light aromas of delicate flowers and marshmallow sugar dust. Past the first sharp mineral-laced citric fruit flavoured sip, the palate is a confusing hotchpotch of cabbage and boiled asparagus trying to suppress an appley taste of bruised Granny Smith. The finish is pleasantly peppery, yet a little oily with a contrasting, very faint hint of sweetness. Almost eccentric – by my standards at least.