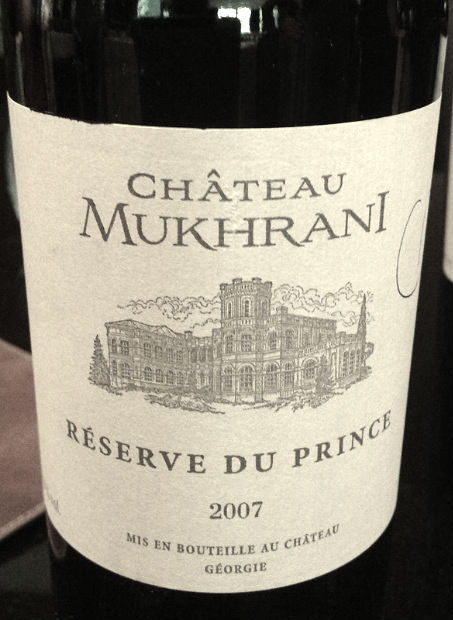 You can tell Georgia that my thinking is clear.
As I browse and catalogue my tasting notes of wines from the strangest of places, it is easy to understand why…
Drawing from memory, the remembrance of one wine in particular is very vivid. It is the Reserve Du Prince from Chateau Mukhrani made from Georgia's native Saperavi by Georgian winemaker Lado Uzunashvili. 
I have always believed in the revival of indigenous varieties.  But I would never have imagined that the repertoire of choice of wines made from indigenous grapes would be as wide as it has extended in the last 20 years. There are very drinkable wines coming out from virtually any place where vines grow nowadays.
But it is this 100% Saperavi from Georgia that intrigues me.
Although Lado Uzunashvili has had a long spell of making wine in Down Under before he started resurrecting Château Mukhrani as one of Georgia's oldest estates, this red isn't anything like your typical Australian marmeladey blockbuster. His Saperavi isn't New Worldish in style but very modern European. Besides, this dry red Georgian wine tastes  very well-balanced and authentic without being rustic as some other examples coming from New Europe tend to be.
The first time I tried this wine was at Prowein 2009. I must admit it got me leaving the wine show with Georgia on my mind. And, even now when I think of this superbly crafted Saperavi, like the ancient poet looking back at the end of each day of creation, I catch myself repeat the same refrain "that it was good".
A wine buyer for Marks & Spencer must have felt similarly appreciative of Saperavi because recently a generic 2012 Château Mukhrani Saperavi has been included in the M&S Eastern Mediterranean selection. And, why not: it is original and thoroughly delicious.
Yes, when I turn the key to my wine cellar, you can tell Georgia I want her near.
---
Tasting Note (2.4.2014 G.M.)
Chateau Mukhrani, Reserve Du Prince, Saperavi, 2007, 13.5% Vol.
variety: Saperavi
style: dry, red wine 
region: Georgia

producer: Chateau Mukhrani
Georges' Score: B-1 Ġeez

This modern expression of Georgia's most famous indigenous red grape variety is deep garnet in colour, full-bodied and brimming over with appealing plum, black cherry and cassis flavours. Tannin are ample yet well integrated, too, giving this classy red wine years of aging potential. Anyone tasting this wine blind could very well mistake it for one of the better Chianti's and Supertuscans.