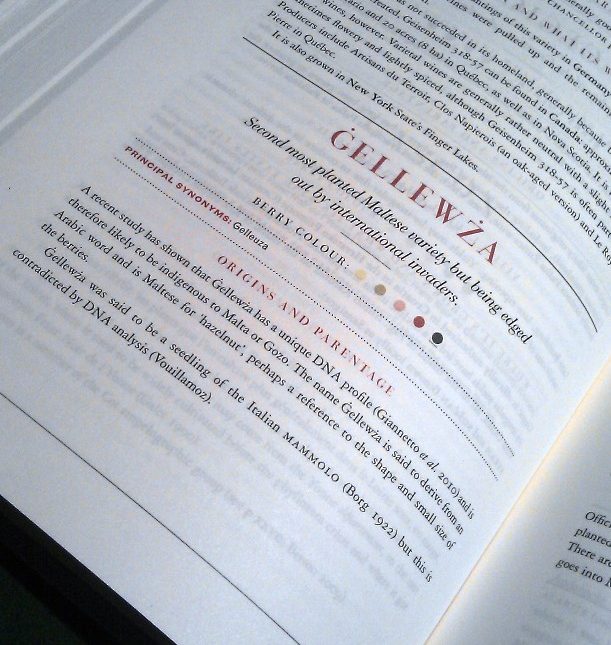 WINE GRAPES – A complete guide to 1368 vine varieties, including their origins and flavours, by Jancis Robinson, Julia Harding and Jose Vouillamoz
My copy of the heavyweight tome 'Wine Grapes' arrived today and I can safely say that I have absolutely no buyer's remorse. The reference book is colossally informative and comprehensive and worth the meagre 9 euro cents or so per grape variety entry.
'Wine Grapes' is a seminal new work and it covers even the two extraordinary grape varieties native to tiny Malta which I have dubbed the Ġ-force in my book "Wines of Malta".
I'm personally delighted to have been given the opportunity to contribute albeit in an infinite small way to the two annotations of Girgentina and Ġellewża out of a staggering total of no less than 1368 entries of cultivars.
Who else but the queen of wine herself, Jancis Robinson, could have pulled off such a venture, saw a seed, nurture and bring to fruition the efforts of the international wine community?
As there's always the chance of a glitch in the negotiating of the 's'  in my first name, even amongst the most erudite Anglophones, there'sa lot more skill required to configure an admission of Malta's native white Girgentina and red Ġellewża varieties than just describing what's in the glass.
But wondrously the triumvirate of authors did take the trouble of spelling the red variety's name 'Ġellewża' correctly by mastering the Ġ ALT+0288 (capital G dot)  and ż ALT+0380 (lower Z dot).
But then again, would one expect anything less? This is not just the
Ġ-force of Malta's Girgentina and Ġellewża grapes at work but the sheer magic of the 3-Jays: Jancis Robinson, Julia Harding and Jose Vouillamoz!
Get your copy if you take your grapes seriously; sell the shirt off your back if you have to!