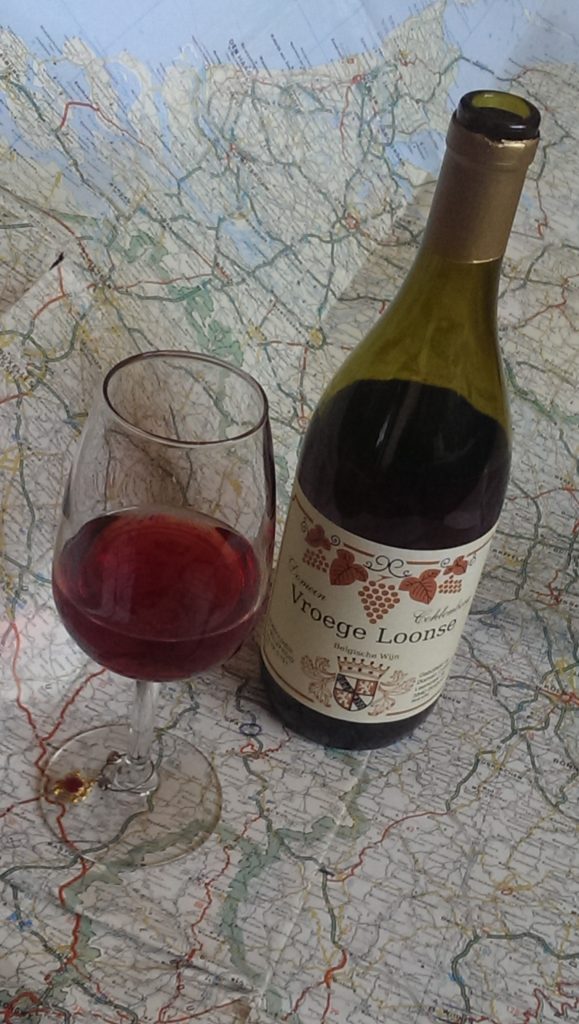 When you are holding a bottle made from a grape variety whose name isn't exactly mentioned in the index of Wine Grapes, the industry's 1200-page tome featuring 1368 different cultivars, you know you you have something rather eccentric in your hands.
And, if that special bottle of wine comes from a small and sleepy medieval village called Borgloon in the heart of beer-steeped Belgium, you can be sure it is really rare.
My prize bottle or red wine is labelled after the peculiar variety it is made from: 'Vroege Loonse', which must be Belgium's closest substitute for sought-after and marketable indigenous vine varieties of which the country has none to boast of. But with this curious clone of Pinot Noir, the land of wheat and hop has at least a small key to the big world of wine.
It was discovered in the early 1960s by the late Jean Bellefroid, an insurance broker turned winemaker and since widely recognised as the godfather of modern Belgian wine.
Probably, like wine producers the world over, he was so infatuated by the quality of the greatest red burgundies that he couldn't resist trying to grow his own Pinot Noir close to home. So in 1964 Bellefroid did just that. He threw caution to the wind and planted his first vines in the field adjacent to his house and, in good Burgundian tradition, in close proximity to a cloister, the nearby Mariënlof van Colen.
The story goes that Bellefroid had stumbled upon this long-forgotten Pinot Noir clone in a field in the closeby hamlet of Vrolingen. Here, a bachelor who used to travel to-and-fro France as a casual worker soon after the World War had planted a couple of vine cuttings brought with him from Lorraine.
Little else is know about the variety that Bellefroid was quick to christen 'Vroege Loonse' and which (surprisingly for a country that is more language-wrangled than there are knots in gnarled old vines) took root without dispute as 'Précoce de Looz' in the country's French speaking part.
Précoce de Looz is a portmanteau word  coming from précoce meaning early and looz referring to the village of Borgloon. It translates rather aptly as 'Early of Loon' since it is likely to be a mutation of Pinot Noir that ripens a few weeks before Pinot Noir proper, similar to the mutation that is currently popular in Germany as Früburgunder.
Jean Bellefroid went on inspiring others to make wine and generously promoted 'his' Vroege Loonse. He gave cuttings to, for example, la Commanderie des Coteaux de Meuse de Wépion. Here still some 800 vines of Vroege Loonse remain cultivated. Other Belgian winemakers known to have plantings are Domein Optimbulles, Het Heuvelswijnhuisje, Domaine de Mellemont and Clos Saint Hilaire.
But, in a country that only recently has taken to growing wine and where Dornfelder and the ilk as well as hybrids are marching up , the total area dedicated to Vroege Loonse has shrunk to less than 1 or 2 ha. Meanwhile, the variety has been listed as one of the permissible cultivars for the production of QWPSR in Belgium but winemakers usually produce less than a couple of barriques each which doesn't warrant the registration costs.
The lovely coral-red Vroege Loonse in my glass is a wine that is hard to place. Although, likable and friendly, it is one of those wines that is likely to startle a befuddled sigh by the uninitiated drinker. Only 400 bottles of it are produced by Bellefroid's son-in-law Ludo Derwael who runs the 1 acre (0.35 ha)  'Domein Cohlenberg' where it all started 50 years ago.
This clean, unoaked wine is technically superior to the white wine made in memory of Jean Bellefroid but paler and not as dry as most Pinot Noir drinkers are accustomed. Whilst it is hard to imagine one can possibly do a better job at vinifying such small batches of grapes, the resulting wine is unfortunately not very perfumed or concentrated.  True, it won't rival the better Germanic and Swiss examples of Pinot Noir. However, as a summer red it holds up well in comparison to wines from Luxembourg, for example.
Burgundians need not fear, though.
Belgian winemakers are not next in line to claim the Crown  or Pinot Noir any time soon, not even with a wine as rare and as worthy of the chase as Early of Loon.
---
Tasting Note (10.5.2014 G.M.)
Domein Cohlenberg, Vroege Loonse, Belgische wijn, Non-Vintage, 12% Vol.
variety: Vroege Loonse, Précose de Looz, Early of Loon 
style: dry, red wine 
region: Belgische Wijn (Borgloon, Haspengouw, Belgium).

producer: H. Bellefroid
Georges' Score: E – for unbelievable eccentric and therefore worthy of the chase

This coral-red wine is just a little perfumed and not as haunting as I like my Pinot Noir to be but  it dances frivolous on the palate and for that I'm happy. It is well-made without any piercing acidity. A whiff of violets is followed by wild, morello cherry and raspberry flavours. It's featherweight, with a smack of myrtle blueberry in the finish. Served chilled it would make a refreshing dry red for summer drinking. It's an eccentric village wine, from my village!