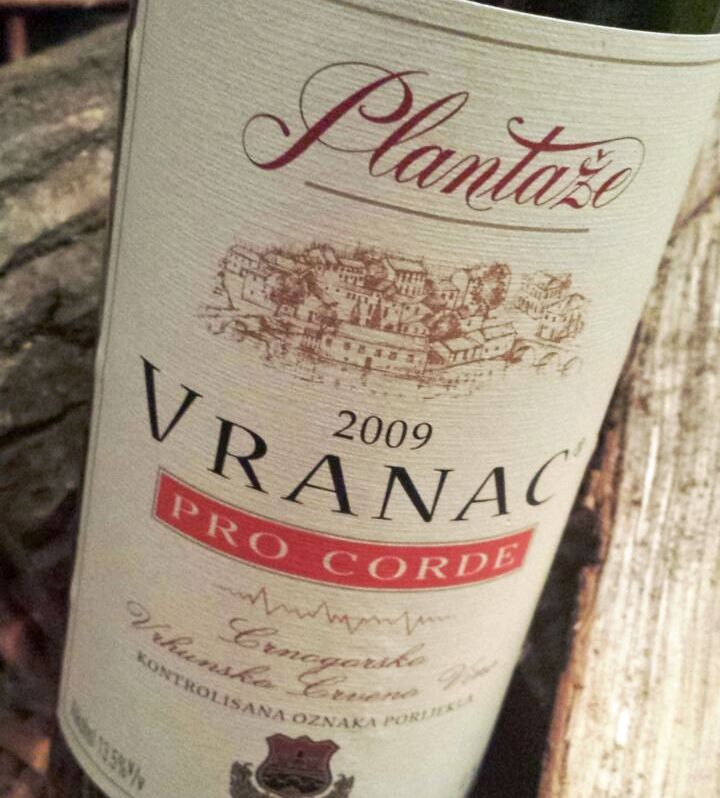 The colour black is intimidating, unfriendly and unapproachable because of the power it exudes. But nothing could be less inappropriate when describing a classy bottle of Vranac, one of over 400 grape varieties grown in the Balkan.
Maybe you haven't heard of it yet. But this curious grape is the most important red variety native to the Balkan peninsula and it has potential.
Widely planted in Macedonia, Montenegro, Kosovo, Serbia, Croatia, Bosnia and Herzegovina, Vranac is perhaps the finest native grape variety in this part of the world capable of producing powerful and age-worthy reds with class when left in the hands of a skillful winemaker.
At the '13 July' winery of the Plantaže company in the south of Montenegro just off the runway of Podgorica airport, they know how to transform this ancient red-skinned grape into modern wines.
I've had other wines from Eastern Europe where you protocolary are served poor young vintages – after you've dismissed all the old gonners Eastern winemakers keep on praising. Separavi from Georgia caught my attention earlier and I've tasted what Moldova can do. So, my appetite has been whetted before but seldom like this time.
Plantaže's Pro Corde ('for the heart' in Latin) label is rather impressive. It's just as captivating as the winery's Šipčanik cellar which before functioned as a hangar for Marshal Tito's air force, bored into a mountain where now some two million liters of wine peacefully age in large oak vats.
Plantaže, for 51% owned by the government, is a giant and has become synonymous with Montenegrin (Crnogorska) winemaking.
The winery is the biggest producer of bottled wine in the former Yugoslavia, still turning out around 16 million bottles a year of variable quality, and manages what is possibly the largest continuous stretch of vines in Europe.
In 1963 when Montenegro was still a constituent of SFRY, the planting of a vineyard on the barren Ćemovsko area near Podgorica, then still Titograd, begun. Later, in the 1970s with hard currency from the World Bank and U.S. Banks, Plantaže's block grew from 226 to 2310 hectares and represents today more than half of the land under vine in Montenegro.
Vranac is their work horse. The name actually means black stallion, jet-black or black feathered raven. Translating too literally from South Slavic languages which call red wine black, might one lead to believe that Vranac resembles traditional inky wines such as those of Cahors. Young Vranac, however, bears more resemblance with wines from Côtes de Bergerac, the Perigord Pourpre region, which are rather purplish in colour and austere on the palate. But with a year or two of bottle ageing, Vranac's purple hue quickly changes to dark ruby and the nose develops a more complex aroma and a soave subtle, round yet full flavour.
Montenegro is a country with a long colourful history as rocky as the 'black mountain' it's named after. Its dominant red grape variety Vranac dominates across borders where it's met with variable success. This hearty premium dry red wine (Vrhunska Crveno Vina) I was offered to taste intrigues, though. It's akin to modern examples of Georgia's juicy Saperavi and Sangiovese-filled bottles of honest Chianti with the fleshiness of Pulia's Primitivo.
When done well, you can put your money on Vranac; it's a black beauty!
---
Tasting Note (3.01.2015 G.M.)
Pro Corde, Vranac, Montenegro (KOP), 2009, 13.5% Vol.
variety: Vranac
style: dry red wine 
region:  Montenegro Kontrolisana Oznaka Porijekla (Controlled Designation of Origin)

producer: Plantaže
Georges' Score:  B-1Ġeez

This dark crimson dry red wine opens with a precise and fruity nose. The whiff of tobacco and leather (French oak) subsides quickly to a fruit-filled palate of black cherry, prunes and figs. The wine is balanced, savoury too and remarkably fresh thanks to a mild balsamic twist in the end. The mouthfeel is soave and smooth. It's a complete wine that oozes character and shows that Vranac has the potential of a thoroughbred.