With over 100 award-winning Maltese wines to choose from, picking the right high-flying wine for Malta's national airliner's cabin crew to serve on board would appear to be an easy task. However, such a selection process involves the professional help of catering consultants as well as wine experts who take into account the surprisingly unusual tasting conditions up in the sky.
Recently I had the privilege to be involved in singling out the appropriate wines for Airmalta's in-flight service. Subsequently, the July issue of "Il-Bizzilla", Airmalta's in-flight magazine, featured my short recount of that tasting session.
If you are a wine-loving passenger, you might find my article an interesting read about what it takes to find the right wine to be served at high altitude.
Live your Wine!
Malta's High-Flying Wines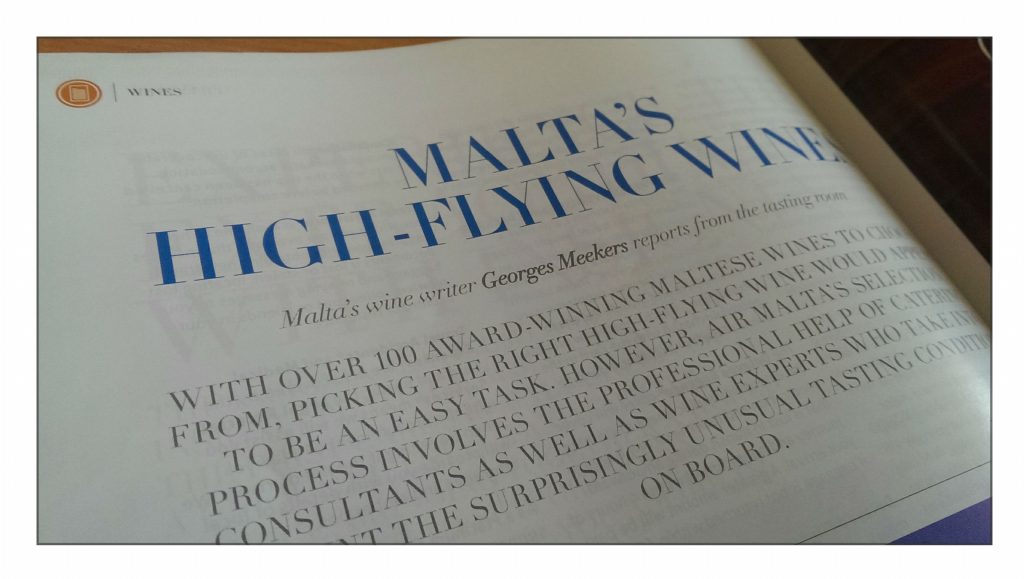 Whilst for some first-time passengers wine may be something to steady the nerves, to the more seasoned traveller, a glass of wine, enjoyed on its own or along with an in-flight meal, is celebratory or something to look forward to.  For many visitors travelling to Malta for the first time, it is also a way of getting acquainted with the rich vinous heritage of the Maltese Islands ahead of arrival.
Hence, choosing what wines to serve on an aircraft remains a challenging task. It will always be like painting with a broad brush trying to please as many preferences as possible with each stroke. But did you know that the process is complicated further by the fact that the dry and pressurised cabin conditions affect our perception of taste?  Although the effect is hardly as detrimental as that of a nose-blocking common cold, it must not be underestimated either.
In the case of white wines, soft-fruit flavours such as peach and pear are likely to taste less at cruising level while herbaceous aromas tend to become too pronounced. Riper, red-berry fruits found in red wines hold up well at high altitude but their less ripe, green-leaf fragrances get unpleasantly accentuated. Barrel-fermented and oak-aged wines as well as wines that are high in alcohol generally fare badly, too, because they risk being perceived as unbalanced.
Therefore Airmalta's in-flight wine selection has been chosen thoughtfully, together with Malta's most-awarded winemaker, Emmanuel Delicata.  Not only has each wine been selected for its characteristics to show well with altitude, the airline's choice of Malta-grown wines has also been bestowed with commendations on terra firma.
The white wine assortment comprises the most unique Pjazza Regina blend of Chardonnay together with designer grape Viognier, the quintessentially Mediterranean Vermentino and Malta's very own indigenous Girgentina grape variety, and the mono-varietal Classic Collection Donato Chardonnay.
Red wine lovers will find the red choice equally agreeable. Both reds are deliberately left unoaked to let shine through smooth summer red berry fruit flavours coming from hand-picked, Malta-grown noble grape varieties. There's the Classic Collection Carissimi Cabernet Sauvignon and the even fruitier Pjazza Regina Syrah and Merlot assemblage.
Remember that wines are usually served a little cooler in-flight than on the ground, even the red ones, which could make their mouth-puckering tannin more noticeable. To enjoy them fully, it is recommended to slightly warm up the red wine by holding the glass – or for your safety served in a cup – for a little while before sipping it on route to Malta where more international award-winning wines await you.