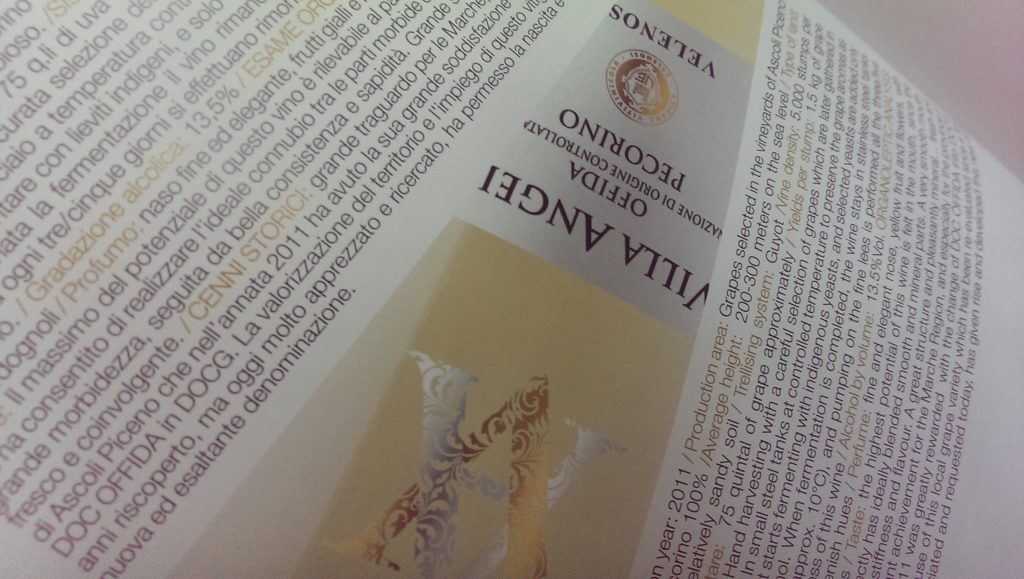 Wine, part of our tangible cultural heritage, is our history, and in Italy, as in most parts of the world, conserving it is considered a matter of crucial importance. Change, therefore, is often regarded as deadly, like a venomous snake bite – a common sentiment felt especially in smaller rural regions.
It's what winemakers in pursuit of a 'really authentic' wine called Pecorino, the speciality of Offida in the Province of Ascoli Piceno in the Marche, will tell you.
The Pecorino grape variety has made it back from the brink of extinction and is now grown not only in the Marche and neighbouring Abruzzo, but also in other parts of central Italy.
But it's the people here, in and around the quaint village of Offida, that seem seriously committed to putting this rare grape variety firmly on the world map of wine. With it they have a story to tell and, more importantly, their ticket to get into impenetrable export markets.
The green thin-skinned variety grows best at higher attitudes and is a good ripener retaining its naturally high acidity rather well too. A varietal wine of at least 80% Pecorino is permitted as part of the Offida DOC appellation.
The dry wines are fresh and racy when drunk young with a certain minerality on the palate combined with delicate citrus flavours and herbal scents on the nose. Overall they are very reliable and pleasant as a light, all-purpose white wine and more interesting than a lot of the other fairly neutral yet famous whites coming out the belt of Italy.
If the truth be told, few producers still cling on to the blueprint for good ol' fashioned Pecorino which can occasionally still taste somewhat rustic and gravelly to the uninitiated drinker, though, and will not immediately quench the thirst for wine over the hills or sea.
But innovation is aplenty too, and sometimes it's heritage's best insurance policy. It's the antidote needed to preserve the region's vinous patrimony.
At least, this is the philosophy at the young, successful Velenosi winery founded in 1984 by Angela and Ercole Velenosi. And, their tasty yet modern-styled Villa Angela Pecorino of the 2014 vintage is perhaps more than any other wine testimonial of that.
It's made with foreign wine buyers in mind, to humour them and lure them away from Verdicchio, Soave, Orvieto, Frascati and other well-known whites coming out of Italy's belly. Velenosi brings the immediate fruitiness of Pecorino to the fore in a style that moves fast from cellar to table. Maybe it's this new, so-called 'commercial' style that will unlock the region and open it up to greater interest in the once forgotten Pecorino variety, the other wines of the region and its wider cultural heritage?
Many a conservative winemaking zealot will nod his head in disapproval of this modern, yet approachable style of Pecorino, which unconventionally passed through malo-lactic fermentation.
A more restrained wine like Donna Orgilla by Fiorano is more likely to meet local acceptance. Also modelled on the idea of traditional Pecorino is Tenuta Spinelli's Artemissa. Both are Pecorino's produced in the classic style but endowed with a only a modest dose of modern appeal. They don't stray from the aromatic archetype, but are just that touch fruitier with hints of sweet pear and green apple, a touch of marzipan and nettles. Especially Artemissa, made single-handedly by winemaker rookie Di Simone Spinelli from just his 5 ha of vines, strikes a chord.
Wheras most modern-day wine drinkers will appreciate Pecorino when still young in bottle, some examples can develop into more complex wines with 5 to 7 years of age. It's these matured white wines which, notwithstanding their tiredness sometimes, are highly prized among parochial enthusiasts as the true expression of 'their very own' traditional Pecorino.
Well, most of the time, that is, as long as the local favourite doesn't pose for a fancy, big fat burgundian first growth like Le Caniette's Pecorino. This atypical wine may not be praised as one of the greatest aged Pecorino's ever, but personally I think it's a gem of a wine.
More accepted, conventional aged Pecorino is made by the likes of the Poderi San Lazzaro and Clara Marcelli and La Valle del Sole wineries. Their older vintages are usually interesting with scents and flavours ranging from the flowery and perfumed to the toffee and nutty, with some white chocolate flavours even.
The quest for and the debate as to what is the purest style of Pecorino won't cease any time soon in the hills of Piceno. Meanwhile Pecorino is enjoying a certain modishness. It will unlikely ever be as popular as Pinot Grigio and by no means will it replace Marche's Verdicchio's export share any time soon.
Winemakers in Offida are aware and under no illusions. Some are happy to hold on to Pecorino's past, others are on the mark shaping its future. With Pecorino they are busy making their very own Marche!