In an island having little or no lush vegetation you would expect that the few patches of countryside that has remained untouched by urbanisation and which is home to literally hundreds of low-growing shrubs and rare indigenous plants would be treated with respect.
Alas, no land is sacred in Malta and even linguistically, the Maltese people sometimes refer harshly and contemptuous to it. Through the use of the word 'xaghri', which derives from the Arabic 'sahra' for desert, we demote our garrigue to land which is useless and has no worth.
But value is relative. I personally love the garrigue, especially in a glass of red wine like that stunning Cabernet Franc from Israel by Margalit, a family owned winery founded in 1989. It took just one whiff of it to make me reminisce about perfumed walks through ankle-prickling shrubland.
Breathe on…
Interesting Thymes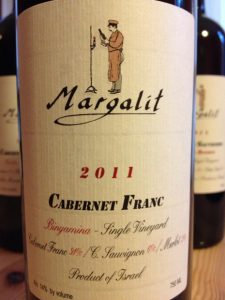 Israel is another Mediterranean country where winemakers in recent times have had to deal with similar challenges as those that their colleagues in the Maltese Islands face. Here and in the Levant, too, winegrowing has undergone a revolution in only the last couple of decades.
One of the unanswered questions of that change asked in both winemaking countries is whether the use of Bordeaux or rather Mediterranean grape varieties should be considered.  Perhaps the jury is still out because there's no definite answer, or is there?
Turning my attention back to my glass, the astonishing red by Margalit made from Cabernet Franc buttressed with a splash of Cabernet Sauvignon and Merlot shows that a wine can offer pleasures inherent to either style.
Although the father-and-son tandem at the helm of Margalit shows an interest in Bordeaux varieties, a special quality marks their wines made from grapes grown in close proximity to the Mediterranean Sea. The varietal characteristics are what you would expect from an excellent Cru Bourgeois but there's also that added unmistakeable Mediterranean flair, an undeniable scent of garrigue. Think of fresh floral fragrances with a whiff of camphor from a bag of herbes de Provence.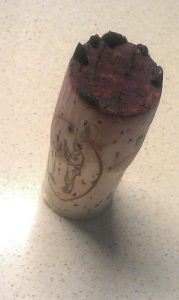 The wine tasting term 'garrigue' is used to describe herbal aromas that are often found in wines from the Mediterranean basin including the Rhône Valley and Provence. It's a reference to the warm scent of wild-growing plants on limestone hills and valleys, a perfume of soluble monoterpenes in oils of such herbs leached into sun-warmed rocky soils from leaf droppings.
The plant which I associate most strongly with the Maltese garrigue is undoubtedly the wild thyme or 'saghtar' which carpets huge swathes of 'xaghri' and fills the air with its exotic fragrance mixed with that of many other endemic plant species such as irises, orchids, lavender, sage, rosemary, wild leek and garlic.
Margalit is a generous wine. It made me realise that I would like to smell more garrique in a glass of Maltese red, particularly in delicate examples of Syrah, Carignan and Grenache. It's a wine's rogue's yarn tracing it to its Mediterreanean roots. I consider it to be a marker of typicality, or Malteseness, terroir if you wish, in that the well-made wines from this region have an undeniable, unique earthiness that can only be ascribed to the climate and soil of the land where the grapes are grown.
In developing winemaking countries like Israel and Malta, where modern viticulture is still relatively young and poses many questions and opportunities, winemakers and consumers live in interesting thymes.
---
Tasting Note (22.7.2014 G.M.)
Margalit, Cabernet Franc, 2011, 14% Vol.
variety: Cabernet Franc (and Cabernet Sauvignon 6%, Merlot 3%)
style: dry, red wine 
region: Israel

producer: Margalit
Georges' Score: B-1 Ġeez

This full-bodied but elegant and well-balanced dry red opens up gently with a violet tinge. The tannins are soave and on the palate traditional Cabernet Franc characteristics of pencil shavings shine through. It's a fruity wine with flavours of blackberry and cassis, with notes of sweet peppers and olives – all knitted together with a streak of garrigue. One that will age gracefully.