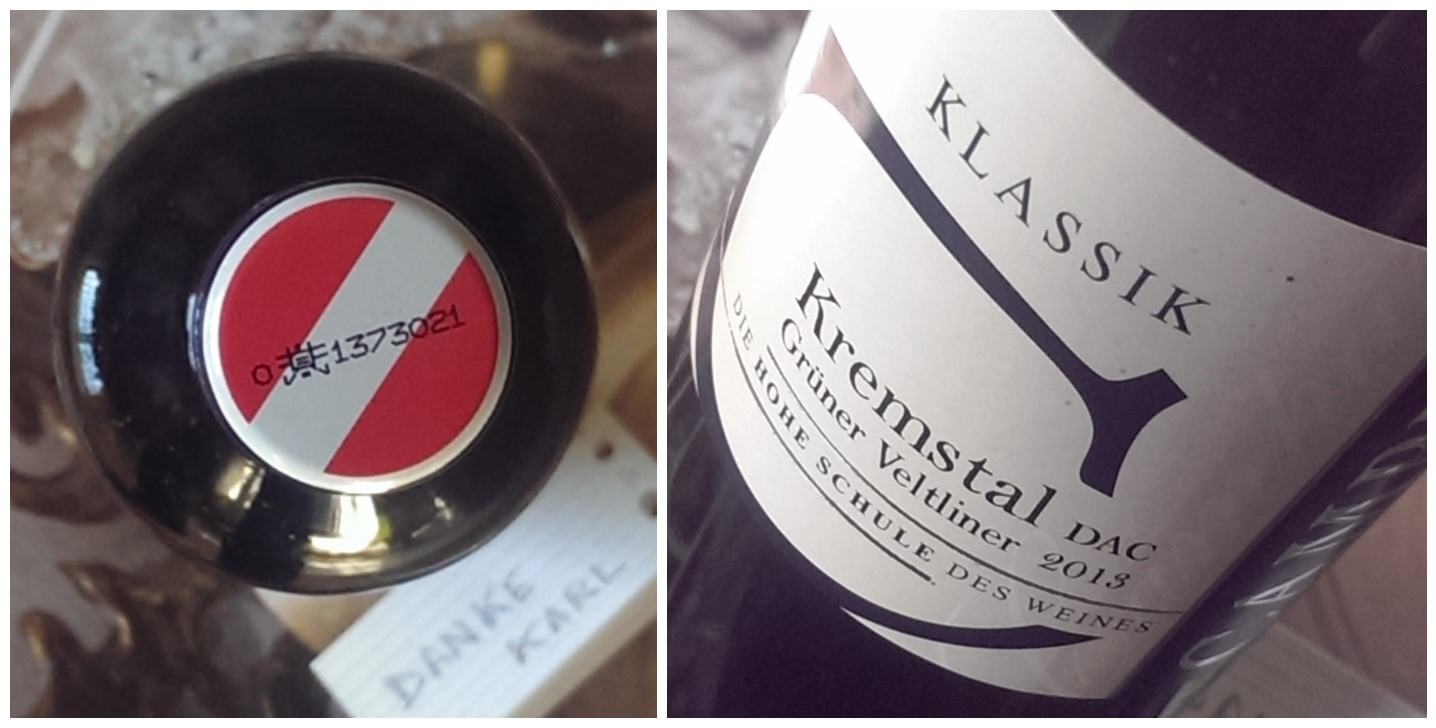 For some people that unmistakable scent of black liquorice may be one to avoid, I know. To me it's a happy childhood memory of sweets I used to eat, nowadays triggered by my liquorice-perfumed anti-dandruff shampoo when I lather myself beneath the shower from hair down to toes.
But that smell of liquorice, the salty-sweet candy the Dutch call 'drop' with that unique pungency which speaks in the tones of earth but sings with notes of green herbs, appeals to me even more as an unexpected whiff in wine.
Red wines made from different grape varieties planted in various places can express the characteristics of earthiness of chewy black liquorice. A couple of times I have sniffed it out in featherlight reds made from Malta's Ġellewża. However, it's rather unusual – and therefore all the more exciting – to  find it in white wine as I did in a glass of bone-dry Grüner Veltliner.
With over 17000 ha of it, this green-skinned grape variety is most at home in Austria of course. Here, winemakers may still choose to show you around dressed in traditional lederhosen, yet the winemaking style at the wineries is no more outdated than the owners' modern luxury cars parked outside.
Seldom has a wine industry reinvented itself so effectively as the Austrian one which has had the knack of marketing its own white grape with an unpronounceable name abroad by shortening it to just Gruner or GV and more recently as gru-vee in the USA.
The young Grüner Veltliner I tasted recently hails from 15 ha of land under vine in Krems in the region of Kremstal. The eye-catching logo of the Austrian flag on the top of the capsule, which replaces a paper banderole, and the mention of DAC on the label gives away its 'Qualitätswein' status.
D.A.C. is short for 'Districtus Austriae Controllatus'. This is Austria's classification used to indicate quality and typicality for a combination of grape and region.
So far five DACs recognise Grüner Veltliner: Kremstal, Kamptal, Weinviertel, Leithaberg and Triasendal. Which is not to say no decent Gruner can be found elsewhere in Austria. In fact, there are also some fine sites in Wachau  and Wagram (formerly Donauland) where even age-worthy, fuller-bodied Burgundian-like wines are produced.
I have to admit that I have little affinity for the Austrian D.A.C. appellation system. However, I'm delighted to sip a 'groovy' glass of a grape variety that seems likely to continue to be planted outside Austria. And, I wish that fashionable Gruner from other countries goes on to deliver flavours as exciting and unusual as the Austrian white wine I tasted.
A touch of liquorice can do great things in confectionery, shampoo and wine, adding an elusive whiff of sweetness. Liquorice is the black leather of fragrance and just a touch of it revs up this bone-dry Grüner Veltliner in my glass – making it stand out like Head & Shoulders above others.
---
Tasting Note (13.12.2014 G.M.)
Campus Klassik Grüner Veltliner, NÖ Landesweingut Krems, Kremstal DAC (Austria), 2013, 12.5% Vol.
variety: Grüner Veltliner
style: dry white wine 
region: Kremstal DAC (Austria)

producer: NÖ Landesweingut
This bright dry white wine has a pale straw sheen and a little aromatic nose. It introduces itself shyly almost beautifully weightless and slender but quickly leaves a mark. Not with flavours of oak or botrytis; instead refreshing tangy flavours overtake an initial electric jolt of bracing acidity. There's white pepper – the variety's hallmark – dill, even a sappiness akin to radish. In the finish the delicate and lean wine tastes salty-sweet, like that weird briny black licorice that only old folks and Dutch people seem to love. But it's gorgeous, I must admit.