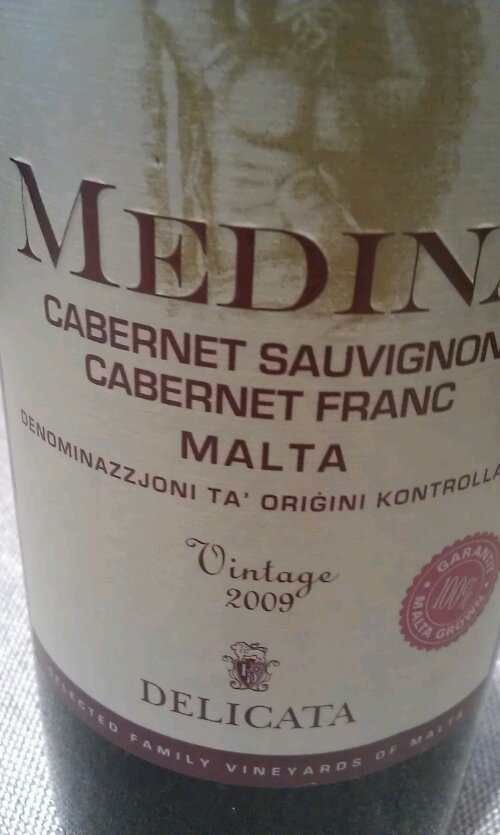 It is still somewhat fashionable in certain small circles, amongst Malta's would-be sommeliers perhaps, to deride the wines of Malta in favour of foreign wines. Yet, there are red Maltese wines around at as little as €5 per bottle that can offer some decent wine value while Crus Bourgeois of similar calibre sell  for trice as much.
I know that the 2010 and 2009 Bordeaux vintages that are currently on offer were generally successful. The same is true, though, for some of Malta's Cabernets of the same harvest years, although they are by no means routinely great either.
Maltese wines are not known for their ageing qualities, I admit. But the featuring unoaked wine of the 2009 vintage which I was brave enough to pick up at my local shop (where it must have stood upright for a while in far from ideal cellaring conditions) turned out a to be true find. It has held up extremely well and the blend of Cabernet Sauvignon and Franc has really improved with almost three years of bottle age. And, while the French ones need cellaring for five to seven years more this Maltese red is gorgeous right now.
Tasting Note (24.2.2013 G.M.)
Medina Cabernet Sauvignon and Franc, 2009, 12.5%

variety: Cabernet Sauvignon and Cabernet Franc

style: dry red wine (still)
region: DOK Malta

producer: Delicata

Georges' Score: B-1Ġeez
The typical brick-red colour is deep and dense. The nose is herbaceous – typical of Cabernet Franc – but with overlaying scents of black fruit. The palate is not willowy but slightly plump; the mouthfeel very soft with smooth tannin. The middle palate is nicely filled out and the wine lingers with easy appeal leaving one wanting more.
Georges' Final Thought
If only Malta's pretentious sommeliers and catering managers  were half as capable as some think they are of distinguishing what makes a great wine for their clientele to enjoy. They would have twice as much confidence in their palate and knock back and cellar at least a few cases of Maltese reds that show ageing potential when they are first released. When in doubt, they should rely on a vintage report when buying, even if that report is mine. It would mean crude savings for them and wine enthusiasts.